We Have Tree Care Experts Standing by Ready to Help
Stump Grinding
TAKE CARE OF YOUR PROPERTY WITH VARELA'S TREE SERVICE
Stump Grinding Services In Baton Rouge & New Orleans
Whether a stump is left from a long-removed residential tree or it's the result of our Varela's Tree Service tree removal or crane removal services, it shouldn't just be left there. Instead of having it just stay and take up space on your property, our experienced tree care company can provide excellent stump grinding services to remove it entirely from your front or back yard. If you have a tree stump sitting on your Baton Rouge, Denham Springs, Watson, Walker, Prairieville, or Gonzales area property, contact Varela's Tree Service to have it handled!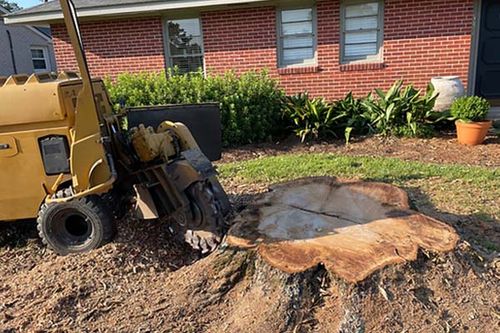 How Stump Grinding Can Benefit Your Property
Having a tree stump just sitting in your front or back yard can be a potential tripping hazard for you or your family members; it can also prevent you from being able to redo your home's landscaping or to launch into a renovation project. However, stump grinding from Varela's Tree Service in Baton Rouge can get rid of that stump and make it seem as though it was never there. If you're ready to remove the leftover tree stump that is getting to be a real eyesore, contact us today to have it removed!
Reach Out To Varela's Tree Service Today For Tree Care
Don't waste another day staring at an old tree stump! Call our tree care experts at Varela's Tree Service for a free quote or to speak directly to our crews. Within a few days, you can expect our team to visit your property and assess the situation on-site, figuring out a plan to best remove the tree stump and take care of all your other tree care needs!