We Have Tree Care Experts Standing by Ready to Help
Crane Removal
TAKE CARE OF YOUR PROPERTY WITH VARELA'S TREE SERVICE
Crane Removal Services In Baton Rouge & New Orleans
In situations where more equipment is needed to remove a tree from your property, that is where crane removal comes in. Varela's Tree Service is more than capable of not only helping homeowners determine if traditional tree removal or crane removal is needed, but also putting together a plan of attack to get the job done right. No matter where you live in the Baton Rouge, Denham Springs, Watson, Walker, Prairieville, or Gonzales areas of Louisiana, our experienced tree care company can help you stay safe while staying and sleeping on your own property.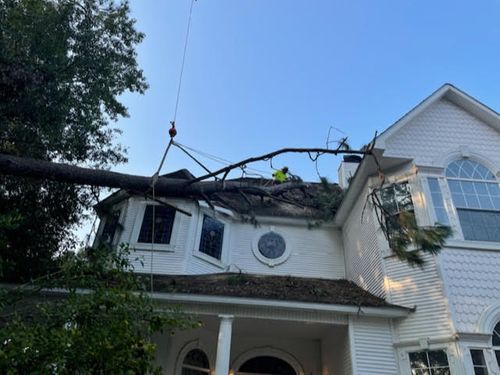 When Crane Removal Services Are Necessary
In short, crane removal for trees is needed when the tree is in very poor condition, dying, or is already dead. However, unlike situations where traditional tree removal can get the job done, crane removal is for situations where the cut-off limbs are too heavy to take down and crazy away by hand. If your property's tree is quite large or has many branches that need to be removed, Varela's Tree Service can perform all the necessary inspecting, cutting down, and removing limbs with the use of a crane.
Get Started With Varela's Tree Service's Tree Care
Our family business is proud to help keep your family safe! If you suspect your property's free needs to be removed entirely, reach out to us today. Whether traditional tree removal methods or crane removal methods are needed, our Varela's Tree Service crews can provide advice on how to best move forward. You can expect us to respond quickly to your requests for more information or for a free quote, and we'll happily visit the site in-person to better assess the situation.